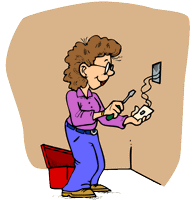 A home electrical repair that you do yourself can save you time and money. Often a first reaction is to be fearful of anything involveing electricity. This is a healthy reaction. A respect for electricity is important for anyone that works with or around electrical fixtures
See the article 'Residential Electrical Safety Tips' for practical suggestions on working with electricity in a safe manner.
Many repairs only take a few minutes to perform and can save hundreds of dollars. Take the time to learn how to fix basic electrical items yourself.
We have become so dependent on electricity that we become agitated when it is off for even a few minutes in a storm. In the past century, modern man has learned to rely heavily on electricity.
There is a tendency to take electricity for granted. It is not until something does not work that we realize how much we miss it, when we don't have it. Move forward in your quest to make a home electrical repair and you won't be disappointed.
The Hoover Dam was once the largest dam in the world. It generates enough power to take care of 2,000,000 homes. That a lot of electricity from water that was just running down hill.
Home Electrical Repair - Finding Help
Below you will find some common problems you are likely to have with your electrical problems. There is a brief description and a link that will lead you to additional electrical information. Our evaluation sections of the pages will help you to decide if you want to make the repair. The "What Can You Save?" and "How Hard Could It Be?" sections give you a quick overview of the repair. This will help you decide if you feel confident enough the make your own electrical repair.
The "Check the Simple Things First" section will clue you in to easy fixes to check for. Is it possible to solve your problem without a lot of effort? Many times it is. In an effort to warn you about what you are in for, there is the "What Can Go Wrong" section. Benefit from the mistakes made by others, avoid problems.
Finding Information for a Home Electrical Repair
Below you will find various topics that are related to electrical repair. Try to find the one that best fits your situation and follow that link. You can always come back to this page if you guessed wrong.
Ceiling fans are a different kind of light. Most of them have a light fixture attached to them. Ceiling fans are used to move air in your home. They have some special issues and need different kinds of home electrical repairs.
The link above will take you to an article that will help you figure out your problem. Are you sure that you ceiling fan is a goner? Or do you just want a new one? The old one is too noisy. The article 'Wiring a Ceiling Fan' will give you some good information on installing a new fan.
Ever had someone standing outside your door pushing the doorbell and you had no idea they were there? Doorbells are another electrical device that can cause problems. You could get a piece of cardboard and make a sign "Doorbell Broken Please Knock" and tape it to the door.
Check out the link above for a discussion on all types of doorbells. Are you sure that you have a wired doorbell unit. Go to 'Doorbell Wiring', for a specific discussion on wired doorbell units. See the pages on 'Wireless Doorbells' for information on battery powered units.
Maybe your friends and relatives won't mind knocking. Even the UPS man might get used to it. On the other hand think how proud you will be if you are able to repair the doorbell. This home electrical repair is not that tough.
This section includes all types of wiring in your home. Lights, switches, outlets and appliances all have some type of wiring. Some devices like ranges and electric water heaters use a lot of power. Phones and thermostats use very little. No matter what kind of wiring you have there can be problems. Electrical wiring is not generally for the novice. However, you do not need an electrical engineering degree to make some repairs.
Some of the topics discussed are 'repairing and replacing electrical outlets', 'replacing light switches', 'wiring three way switches', 'installing dimmer switches', 'repairing and installing light fixtures' and 'telephone wiring'. Follow these links to get more information.
Before attempting any electrical repair you want to take safety precautions. Pay close attention to the warnings and make sure that the power is off before you mess around with anything. With the right information and precautions you may find that you are able to fix some things yourself and save the cost of a repairman.
Basic residential house wiring is a section that lists all of the elements that are found in most homes. It has descriptions and links to various resources that you will need to repair the various items.
Some of the topics discussed include: The 'main service panel', 'types of electrical circuits', 'types of electrical wiring', 'circuit breaker types', 'adding circuits to a home', 'replacing circuit breakers', 'how to wiring information', 'installing electric fixtures' and 'troubleshooting electrical circuits'. Follow these links to find out more information.
Home Electrical Repair Using Common Sense
Changing a service panel or even adding a new circuit in your home may be beyond your capabilities. Checking, repairing and replacing outlets and switches is certainly within the reach of most people. Installing a new light fixture or dealing with a ceiling fan is also possible. Use good judgment when evaluating the level of difficulty for any home electrical repair that you attempt. If you do that and are patient you will be successful.
>
You need to have a healthy respect for electricity when you make your home electrical repairs. Never work on any electrical item with the power on. Tag or tape the switches and breakers so that others will know you are working on the power. Use a tester to double check them before touching them. Make sure you know how to properly hook things up before turning the power on. Check out the page on 'Electrical Safety at Home' for more safety information.
Most things can be done with the normal tools you have, such as screwdrivers and pliers. A power tester and a pair of wire stripper/cutters come in handy. A battery drill and a reciprocating saw may be needed for adding or modifying circuits. There are other more specialized tools that are usually not needed by the average homeowner. Home electrical repairs should not overly tax your tool budget.
We hope you have found the information that you need to address your home electrical repair. Below you will find links to all the articles that we have available on home electrical repair topics. Check the 'Evaluation Section' and give the 'Steps' involved a quick look. If it sounds practical for you, read the information carefully and follow the steps. Keep the hair dryers running and your family will thank you.