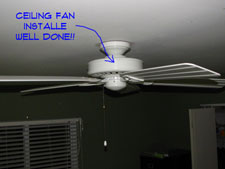 Turn the breaker back on and see if everything is working. Are the blades turning? At this point the fan should be moving air.
Is it turning smoothly and evenly? Is it quiet? Assuming that you installed all of the mounting hardware correctly, the fan should operate smoothly with no extra work.
Once in a while, something will be slightly out of kilter and the fan will wobble. This can be distracting and cause parts to loosen over time.
Final adjustments may be needed if the fan is not turning evenly. You should have got a weight kit with the fan.
Follow the instructions provided with the fan to balance the blades. It is a bit of trial and error, but worth the effort.
Keep playing with it until it turns evenly. Running smooth now? Great, you are done wiring a ceiling fan. New horizons of home repair await you.