Wiring lights in your home is needed if your fixtures quit working properly. Light sockets, ballasts and other components may wear out. Replacing the defective fixture with a new one may seem like the course of wisdom. New fixtures can be inexpensive and easy to obtain.
OK admit it, you really didn't like that light fixture anyway. Or was it your spouse, 'that light is ugly, let's get a new one'. For whatever reason you want to install a light. What are the concerns? Is it hard? This is something you can do.
For related electrical problems you want to see the articles 'How To Wire a Light Switch', 'Residential House Wiring', 'Ceiling Fan Troubleshooting' and 'Wiring Three Way Switches'. These articles provide additional information and instructions on what to do.
This article will help you decide if this is something you want to attempt. Check out the evaluation sections and see how hard it is. How much could you save if you do it yourself?
Wiring Lights - Information
Troubleshooting Light Fixture Problems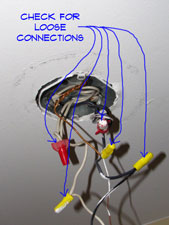 What are the light fixture problems that can be fixed? You are allowed to buy a light new light fixture if you want to. But, is the old one really beyond hope. Don't blame the poor old light fixture if it is just a little worn out. As always, start with the simplest things and then move to the harder ones.
Did you check the bulb? 'Of course I did, dummy', you're saying about now. Try another one, I nearly pulled what little hair I have left for close to an hour once, because a brand new bulb in a package was bad. Did you check the breaker? Make sure it is not tripped.
The next thing to do would be to check for loose connections, both on the fixture and inside the box. Turn the power off first. Tighten any think that seems to be loose. Turn the power back on with the fixture hanging. Check it with a non-contact tester. Do you have power to the fixture? No power to the box? You have a different problem.
Check the switch, do you have power there? With the switch on, still no power to the light? Yes, the switch could be bad. The article 'Wiring a Light Switch', has more information on this subject.
No power anywhere? This is bad, tracing circuits and tracking down basic wiring problems in a home is beyond the scope of this article. See the article 'Basic House Wiring', for some additional insight.
WARNING!! Make Sure the Power is OFF!!! BEFORE You Work on Electrical Devices!!!
Troubleshooting Light Wiring Problems
Wiring Diagrams
There are several ways that light switches can be hooked up inside of the back boxes. For a homeowner, it can be a little daunting to figure out which wire is going to what. Wiring diagrams can help, see the article 'Light Wiring Diagrams' for the available diagrams.
Installing Light Fixtures
When you decide to replace a fixture, you will first need to remove the old one. After you get the old fixture removed, you will need to install the new one. See the article 'Installing a Light Fixture' for information and instructions on what to do with your light fixtures.
Issues With Light Switches
There are different types of light switches that you might have in your home. There are, of course, different problems with each type. See 'Wiring Single Pole Switches' for simple switch problems, 'Wiring Three Way Switches' for lights that have more than one switch that controls them, and 'Wiring Dimmer Switches' for adjustable switches.
Summary
How hard a wiring lights project is depends mostly on the fixture you select. Some fixtures are a little hard to get together. I hate to say it, but you probably had to look at the instructions. The wiring is fairly simple.
No question, you probably spent the most time trying to decide which fixture to buy. After that ordeal, putting up the light seemed easy. We hope that your project was successful and you have moved onto more interesting things.